Celebrating five years of Savvii
Five years ago we started the first dedicated managed WordPress hoster in Europe. Now, five years later, we are with over 25 people. In this post you will get an inside view of why we started, how we found out what to build, and give you a sneak preview of the new Savvii Admin Panel.

Why we started Savvii
"No More WordStress" started as a gimmick, just a slogan for the t-shirts for the first WordCamp Europe. But it captures exactly what we aim for, so we still use it every day.
– Flip Keijzer CEO Savvii and co-founder Savvii
The founding team was a mix of people who loved WordPress and are experts in hosting. From the very first moment, we knew these two qualities should be a great mix. But the team needed to have a clear understanding of the struggles WordPress professionals and developers were facing.
Reaching out to the community
We wanted to make sure that we didn't make false assumptions, so we did the only sensible thing at that moment: we reached out to professionals in the WordPress community. We gave ourselves one month to speak to all kind of WordPress professionals. From freelance developers to big agencies, you name it, and we went there. We found out that we need to be the best in 4 different areas: speed, security, ease of use, and service.
We were surprised by the open culture people had in these conversations. It proved to us two things. One – the community is sharing and welcoming, and two – people are frustrated by all the hassle that comes with hosting a website.
We knew immediately that there is a whole lot of professionals desperately waiting for a solution. Now we only had to build it.
Raising the bar
We decided to do only WordPress hosting. If you make that decision, it also means you have to say no to stuff that will distract you from becoming the best WordPress hoster.
That means we do not offer domain registration, we provide no email hosting, and nothing personal, but other CMS like Typo3, Joomla and Drupal are not allowed on our platform. Do one thing, and do it well.
We follow the UNIX philosophy "Do one thing, and do it well."
– Alexander CTO Savvii
Hosting is the foundation of your site
Our users are professionals, they know their way around the web. So going live with a website is not that difficult for them. Select a web hosting company, run the famous 5-minute-installation, and update the DNS.
You can build the most advanced WordPress site, but if you settle for poor quality hosting, the site will never live up to it's potential. Hosting is the foundation of your website.
Keeping legacy out of the door
If you decide to build your own hosting platform, that means that as long there is no server running you don't have a product. We started building our hosting platform from scratch.
The biggest advantage is that we started out with zero legacy code. Legacy code is code that was written previously, and worked just fine back then. But you didn't refactor the code, build a nasty work around, and now this old code is holding you back.
We really had a blank page in front of us. And we decided from day one that we never want to introduce any legacy. Every time we release a new feature we'll roll it out to all users. Everyone immediately gets the tasty treats when we introduce a new feature. Of course, this is a big advantage for our users, but also for us. As it means that we have only one platform with no environment variables.
Performance matters
If you are passionate about something and give up because it's difficult, you lose something of yourself. From day one we never compromised on performance and speed. By providing an advanced varnish caching layer on top of our web servers every page load instantly faster. Because we can solely focus on WordPress we can fine tune our hosting stack to how WordPress behaves. With zero configuration all our clients immediately get a speed boost.
Security
At this moment WordPress is used by almost 32% of all the websites. And it just keeps growing in popularity. As a side effect, people with bad intentions, hackers and spammers, also have a special interest in WordPress. So you need to always keep security in mind.
Plugin updates
Keeping your WordPress site and the plugins up to date is one of the best safety measures you can take. Every day new updates are available. If you have a couple of sites, it quickly becomes a full time job just keeping the all your sites up to date. So we decided to include a service where do all the updates for your plugins. Our users can focus on developing sites, while we keep the site up to date.
Clone your site to staging
This year we have released a single click staging feature. You can make changes to your website in a separate environment, and after you made sure that everything works just the way you want you can push the changes back to the live website.
Deprecate insecure PHP versions
There is a lot more coming. PHP 5.2 and PHP 7.0 will be unsecure from December 2018, so we will phase them out.
Easy backup workflow
When we heard about the backup workflow people where using we knew that could be so much easier. The weird part about backups is that you don't think about them until it's too late. The horror stories about corrupted backups, memory limits, months worth of orders gone, you name it and we heard it.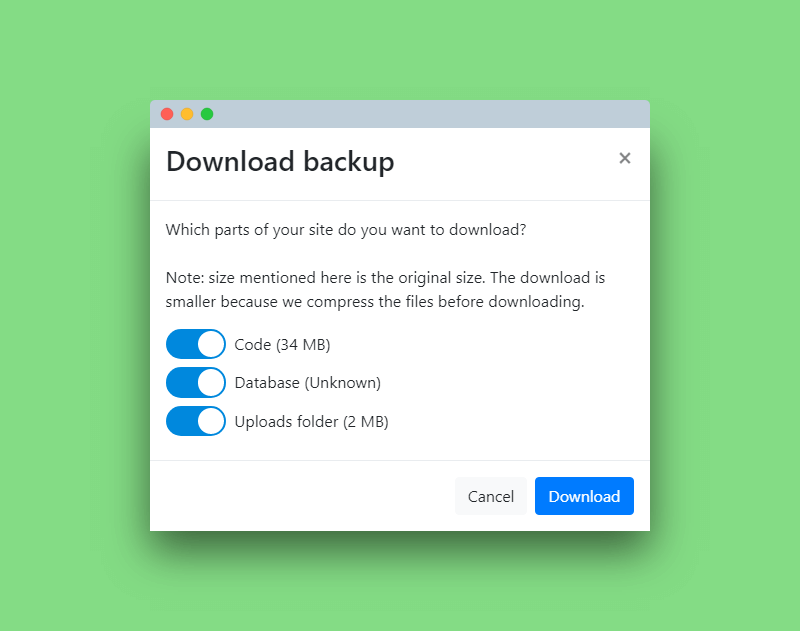 Our backup system is robust like a rock. You can make a snapshot on demand, choose if you only want to restore your code, media folder, or database to a previous state. And you can even create a custom restore where you can pick just the restoration points yourself.
Community
Organising WordPress Meetup Nijmegen (NL)
Together with our friends and neighbours Yoast we organize the WordPress meetup Nijmegen. We started four years ago, since then we already have over 1500 visitors.
Contributing to WordPress
When going to a WordCamp we always attend the Contributor Day. A misconception we often hear is that if you are not a developer you can't help. Well, that is just not true. For example, our marketers contribute to the marketing team, our sales team helps out with translating plugins and multiple employees are part of an organizing team.
We actively contribute to the WordPress project. After multiple contributions by our employees even our CEO (a developer pur sang) had his first core commit approved at WordCamp Europe.
– Gijs Hovens Marketing Manager and co-founder Savvii
Coming soon…
And of course, we will keep improving our platform. We are redesigning the Savvii Control Panel. Since we started, we have added new components and features to the panel. We have a lot of input received from about how we can help WordPress professionals with a good workflow. For now, we can share a sneak preview about the look and feel of the new panel. Make sure to subscribe to the Savvii Newsletter, that way you are always up to date with the stuff we are working on.
Share your ideas
We are really curious about your feedback. Please let us know in the comments below or send us a mail.