Improve the user experience of your Magento webshop  
Architecture
Puck, 28 September 2022
Once a visitor visits your site, the decision whether he will proceed to purchase on your site is often quickly made. This can be related to various factors such as the speed of the webshop, the page layout, but also the search functionality. After all, a visitor must be able to find what he is looking for.
How do you make sure the search function works at its best? And how do you ensure that your customer can quickly find what he is looking for?
Search function in Magento 2
In Magento 2.4, Elasticsearch is integrated by default to be used as a search function. We recommend that you make use of this since Elasticsearch generally works a lot faster and is more advanced than other search functions. In order to use all the functions, Elasticsearch must be installed and configured with your Magento shop.
Examples of these features in Elasticsearch include being able to handle error-prone searches such as spelling or grammatical errors, synonyms, wrong characters of product numbers, etc. Also, Elasticsearch can provide a list of alternative results for when someone searches for something that matches a product but is not exactly included as a keyword. To make the most of these features, it is best to download a third-party plug-in. This is because Elasticsearch itself does not offer (many) options for this specifically for Magento. These plug-ins allow you to have more control over features such as auto complete search, synonym lists, searching in different languages, etc.
Besides these plug-ins, however, there are other ways to improve the search function on your site.
3 simple steps for search optimization in your own Magento backend
You can use your store's backend for further optimization. Before you've assigned tags and categories to your products, you've probably already done some keyword research. If not, then this is the perfect opportunity to do so now. This most likely means that your customers' search experience is not (yet) optimal.
1: The search term rapport
In the back-end of your shop you can find the search term report. To find it, go through the following steps:
Click on "MARKETING" in the menu.
Under SEO & Search is "Search Terms", click this report.
2: Set up synonyms lists
Let's say you have a webshop that sells sporting goods including hoodies. You've probably already estimated what people search for to find your products. For example, "hoodie" and "zip-up." But maybe this estimation is not complete enough. As an example, let's see what happens if we search "sweater" multiple times in the demo shop (Without adding it as a synonym). We see in the search term list that "sweater" was searched 24 times, but no results match it.
For the client, this looks like this:
Even the "did you mean" feature now doesn't show results. So you now know in this way that people are searching for keywords that you yourself may not have thought of yet. Suppose you do offer suitable products that are not being found for these keywords, you can add them to the synonym list.
You do this by under the marketing heading, clicking on "Search synonyms." Here we can add lists of product names. Suppose you want people to see all hoodies when they type in sweater you can easily do this here if you click on "new synonym group".
Suppose you have several websites, then under "Scope" you can choose which websites you want to apply this synonym list to. Here you enter all the words you want to apply as synonyms and click Add synonym group. Now if a client searches for "sweater" he/she will see the following.
Note. Only include words that are relevant synonyms of each other because all synonyms can be found among each other. For example, if you type in "top, hoodie" as synonyms, this means that once someone searches for "hoodie," they will also see all articles that contain the word "top" including shirts and other articles that are less relevant.
3: Set up redirects
Now that you have been able to gain insight into your customer's search behavior, it is useful to see what is being searched for a lot. If you see that broad search terms are entered on a regular basis, you can redirect the customer to a relevant page.
Let's use the same example as before. Suppose you have a wide range of hoodies, it might be useful for a visitor to be directed to a category page when they search for "hoodie." There are a number of reasons for this. It gives a customer the idea that he has many choices, and that the site is interactive enough for him to understand what he means. Another reason is that within a category page, the visitor has more opportunities to set his own filters and search very specifically.
You can do this very easily by going to the search term report and clicking on the search term (search query) you want to associate with a category page.
Then you can simply enter the URL of the category page at "Redirect URL."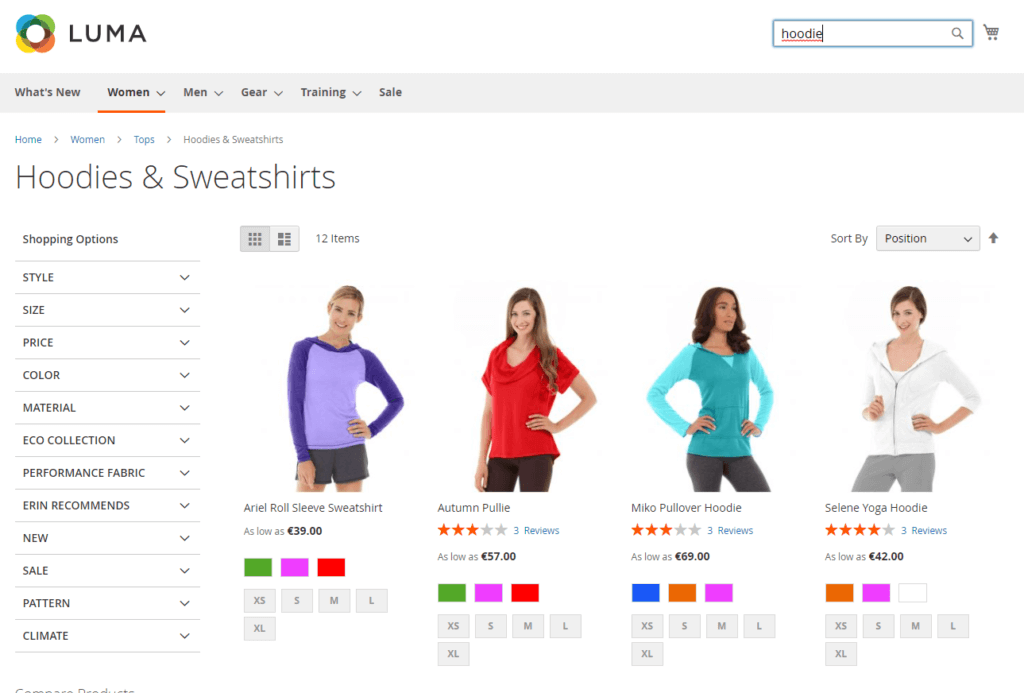 The next time a visitor searches for "hoodie," they will automatically land on the category page.
You may have to re-index the catalog after applying changes to your shop if you have not set this up automatically. In that case, check "System" under "Index Management" to see if all changes have been made automatically.
Also keep in mind that you need to do proper research on your customers' behavior beforehand.
Hopefully you now have a better idea of how to improve the search function on your site.