Why Sabine Koning (OhMyFoodness) selected Savvii as her hosting provider
Timo, July 31, 2020
Sabine Koning has been writing blogs ever since she was in the first grade. On a self-created HTML site she posted stories about fashion, make-up and other girl things. Today, she runs one of Holland's biggest food blogs, and is in the process of transforming her site OhMyFoodness into an interactive foodhub. A place where cooking enthusiasts get new ideas, share recipes and find useful cooking material on her webshop. All in all, a dynamic website that requires the necessary hosting power.
You don't have to explain people that blogging is more than a hobby and you can make serious money from it. This used to be different within the Dutch food blog scene a decade ago. But slowly a transition occurred. When visitor numbers increased, advertisers saw their chances. And those advertisers didn't pay for ads on a site that was offline half of the time. For Sabine, who had been blogging for years, the chance arrived to finally make blogging into a career. At that moment she decide to look for a new hosting provider.
The professionalization of food blogs
"Blogging has been a hobby for a very long time," says Sabine. "I've put almost all my spare time into it, but I didn't get any income from it. I didn't care, I started blogging for fun and I still love it!" Where fashion blogs were already being found by advertisers, food blogs were still yet to be discovered, according to Sabine. "Gradually we became interesting too. Advertisers wanted to buy banner space and small collaborations became serious assignments. Money started to come in. That also meant that certain expectations were imposed by advertisers."
"At the time, I didn't pay much for my web hosting. I had it stored at a budget hosting company. That went well for a long time until the number of visitors increased and my blog became more popular. It happened a couple of times that my website was down and it took several hours before it came back online. This was unacceptable for the advertisers that invested in my website. Now that I was finally generating an income with my blog, things had to become more professional. It was time to find a new hosting provider."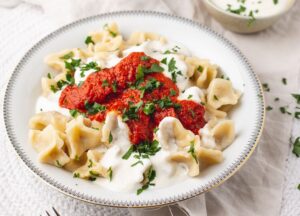 Hosting stability
Currently, 350,000 unique visitors visit OhMyFoodness every month and the site generates 1.2 million page views. "The blog has grown so much in the last five years! And that growth only seems to continue. With all those visitors, you obviously need hosting that's able to cope with the load. Since I've switched to Savvii I haven't experienced any downtime anymore. Only during server maintenance the website has been offline for 10 minutes once. But this didn't cause any problems as the update was done at night. Even at peak times, such as Christmas (when there are up to three times as many visitors) I don't notice any problems".
"At the moment I'm running a webshop in addition to my blog. The shop is located on a different domain but will soon be part of OhMyFoodness. In addition, there is a back-end environment that we want to develop into a place where food and cooking fans can exchange recipes and cooking ideas. OhMyFoodness will become more than just a place where I can share my own cooking ideas and inspiration. Such an interactive platform requires the necessary hosting power. At Savvii we can easily scale up to that capacity".
Automatic updates
"My daily routine consists of photography, writing new recipes, writing blogs and publishing cookbooks. I also like to think about what else I would like to do with OhMyFoodness. As you can see I'm always busy with new idea's or adding new content to my website. When you run a blog you have to make choices in how to invest your time. I love that fact that I don't have to worry about updating my plugins or making backups of my website with Savvii. I'm often actually afraid it will go wrong when I do this myself. And if it goes wrong I first have to find out where my backups are. This takes time and energy. That's why I don't want to deal with it at all. Savvii takes over these tasks so I can keep focusing on new projects that make OhMyFoodness into an ever bigger success."
What tips do you give bloggers who also dream of a blogging career?
"If you take blogging seriously, take the technology behind your site serious as well. Running a successful blog is more than just writing stories. If you want to make money with it, your website has to perform good as well. Take a good look at which hosting provider suits you best. If you are looking for extra support, choose a provider that's able to provide this. Test out their support by sending them an email, or by going on a live chat system to see how fast they respond. Another important aspect of hosting is scalability. Choose a hosting provider that's able to grow with your ambitions. Suppose your blog really starts growing you need to be able to scale up with the traffic. Look for a provider with easy scaling possibility's."
"You shouldn't cut back on hosting. Get advice from various providers and start with a hosting package that best suits the current size of your blog best. At the moment you start getting in money from advertisers everything has to be set up correctly. It's up to you to prove that advertising on your blog pays off. Neglect your blog by choosing low quality hosting and advertisers will quickly drop out."